We're currently closed but wanted to bring back the site for archive purposes only.
MCGamer Network
Hello Tributes,
Thank you for the overwhelming support with the
recent tweet
as we miss you as well! We are indeed involved in early planning to start this community back up due to popular demand. It's been way too long and we want to bring back the good old days when MCSG® was at it's prime. We have no ETAs right this second however we need your feedback to help us pick the correct direction we will go with reopening our community. Please note, we are just going to focus for now ONLY on MCSG® as we want to make sure we get this done right. We have ideas for new flavors of the game that may enjoy but will also keep the classic intact for how you remember it back in the day. Minecraft has changed so much where we need to do some work building this up to the latest version. Lastly this website will remain in archive mode while a new site is being created.
More details to come in the coming months but please...
To respond to the questions being directed to me, I will respond now but this is very premature due to what is going on in the backend. Right now MCGamer is indeed shutdown due to lack of funds as we been operating on a loss for the last 7 months. Scaling down our infrastructure caused more issues where we could not afford to redo and change things to keep servers online. I have been in talks with 2 parties on possibly taking over before this event happened but they backed out. My goal is to have this place soon transferred to a new owner to continue MCGamer/MCSG as I know I can't continue with the things going on in my personal life. Until approval, no one based on rumors I been seeing has been officially licensed by me to continue this community and will be contacted to remove any content via DMCA/C&D. Any content within our community is still protected by our copyright/trademarks and I will take _Zero Tolerance_ for anyone copying, duplicating our content anywhere. Soon, our...


Hello tributes!
Unfortunately, the 8th MCGamer Awards has come to an end. However, we're proud to announce that this edition's MCGamer Awards was a success! Thank you to everyone who took part in this amazing event. This event wouldn't have been a success without all the submissions we got.

Congratulations to all the winners of the 8th MCGamer Awards!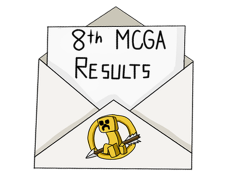 Staff:
Favourite All-Time Administrator
1st. Yannick/yannr00s - http://i.imgur.com/3Vr3tGC.png
2nd. NagolGames - http://i.imgur.com/31nm5lL.png
3rd. Col_StaR - http://i.imgur.com/XeJRG0V.png
Favourite All-Time Developer
1st. Devin - http://i.imgur.com/0ZUGqyQ.png
2nd. CAmadeusA - http://i.imgur.com/LYXrkhv.png
3rd. Rustywolf - http://i.imgur.com/bJbTLmA.png

Favourite Senior...
​
​

This is the final round of the MCGamer Awards. The MCGamer Awards Crew have calculated all of the votes that you tributes have sent in.

Procedure

This edition of the MCGamer Awards is an nominations-elimination-finals edition. The first round was the nomination round, per award you could submit the names of the people who you think would be qualified for that certain award. Per category 5 nominees went through to the second round. That round was the first elimination round. In the poll on the last thread, the majority ( 66,7%) voted for directly moving on to the final round, so that's where we're at now.

Prizes

As per usual, there will be prizes for the top 3 nominations, for every award. First place will get a personalized banner, which happens to be colored gold. Second...